Hunter Douglas® has developed a reputation as one of the premiere brands for blinds, shades, and other window treatments, and with good reason.


Choosing Hunter Douglas® shades offers your home superior style, unbeatable temperature control, and unmatched durability that will help your home shine. With a rich heritage dating back to 1946, Hunter Douglas® has consistently pushed the boundaries of innovation, transforming windows into captivating focal points and enhancing the ambiance of any space.


Hunter Douglas® offers a variety of different shades that are perfect for making your home a space where you and your family can thrive. The benefits of Hunter Douglas® shades are numerous and, in this post, we will go over the top four Hunter Douglas® window shade options that will be perfect for your home.



The Top Four Hunter Douglas® Shades that are Perfect for Your Home


Silhouette®, Pirouette®, Vignette®, and Duette® shades from Hunter Douglas are four of the best window treatment options for your home.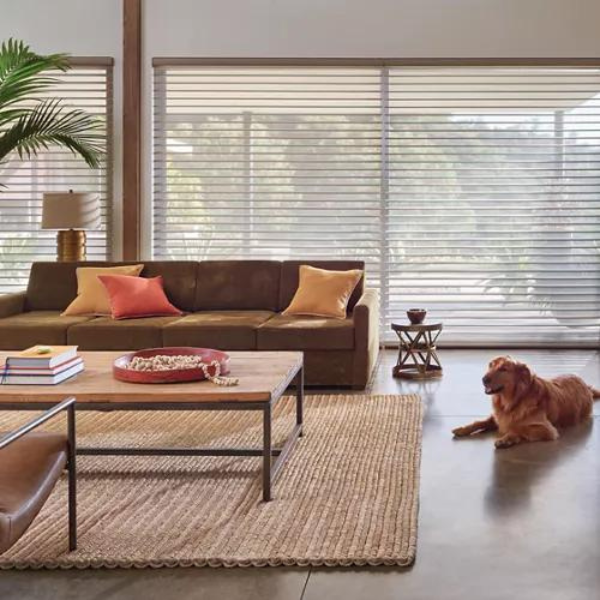 Silhouette®


Add elegance and function to any room in the house with the soft Silhouette® shades. Silhouette® shades offer an unbeaten combination of light control and privacy.


You can easily control light and privacy by rotating the fabric louvers of this product or open the louvers for a soft diffuse sheer effect. What's more, the soft and adjustable S-shaped vein adds an infusion of luxury that cannot be matched.


Here are a few key features of the Silhouette® shade from Hunter Douglas®.


Better views from your window. The Silhouette ClearView® Shadings are crafted and designed with a unique combination of specialized front and back sheers to maximize your view of the outdoors, without allowing wandering eyes to see in.


You get the sunlight you need. The double-layered vanes on Silhouette Halo® Shadings give you the power to redirect sunlight in your rooms. That means you can tell the light to shine exactly where you want it (and never in your eyes). You will have the ultimate control to manage light throughout the day.


Premium design and style. No other window treatment can offer the rich, warm texture that comes standard with the Alustra ® Collection of Silhouette. Fabric, texture, colors, and hardware come together to meet the criteria of discerning designers and thoughtful customers who seek the best in design.


Superior UV protection. The beautiful dual-layer sheer fabric filters harmful UV rays to protect your furniture and home from fading. Depending on the sheer fabric you choose your Silhouette® window shadings can block up to 88% of UV rays.


Perfect privacy and light control. The white rear sheer obstructs the view into your home, providing privacy even when your vanes are completely open. To meet your light and privacy needs, it's as simple as tilting your vanes to your desired position. Hunter Douglas® handles the rest.


Get the deep darkness you desire. Silhouette Duolite® shadings give you all the benefits of a Silhouette® shade with an independently operated roller shade nestled neatly behind it for the ultimate control over incoming light.

Learn more about Silhouette® shades here!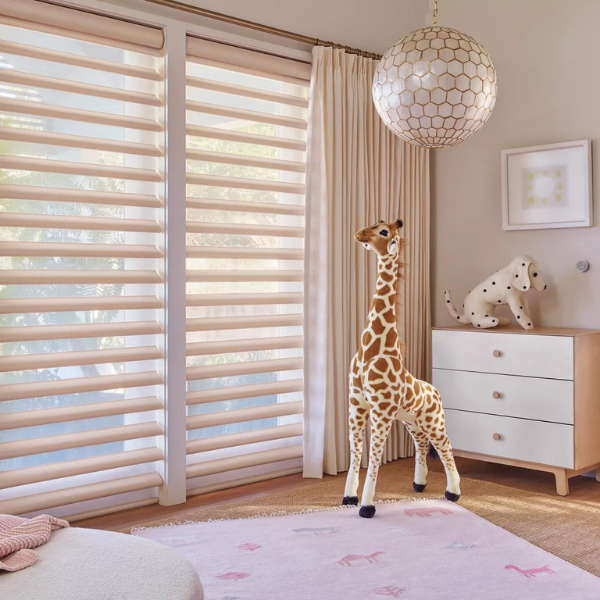 Pirouette®


Pirouette® provides a bold and modern alternative to the look and feel of traditional fabric shades.


Pirouette® shadings feature softly contoured fabric vanes that magically open and close to give you complete control over your desired degree of light filtration and privacy. The revolutionary Invisi-Lift™ system allows the vanes to float gracefully on a single sheer backing.


Vanes can be flattened for complete privacy or blossomed open to any position to invite incoming light and provide a view to the outside. They block up to 81% of harmful UV rays with the vanes open, and 99% with vanes closed to help protect your furnishings and extend their life.


Pirouette® shadings are available with both semi-opaque and room-darkening fabric opacities, two vane sizes and a wide variety of colors to perfectly complement your room's color palette. So no matter what your style or décor, there's a striking Pirouette® design that will work for you.


Pirouette® shadings are designed and custom-crafted in the U.S. with the highest level of quality. Best of all, every window treatment from Hunter Douglas is covered by our lifetime limited warranty.


Learn more about Pirouette® shades here!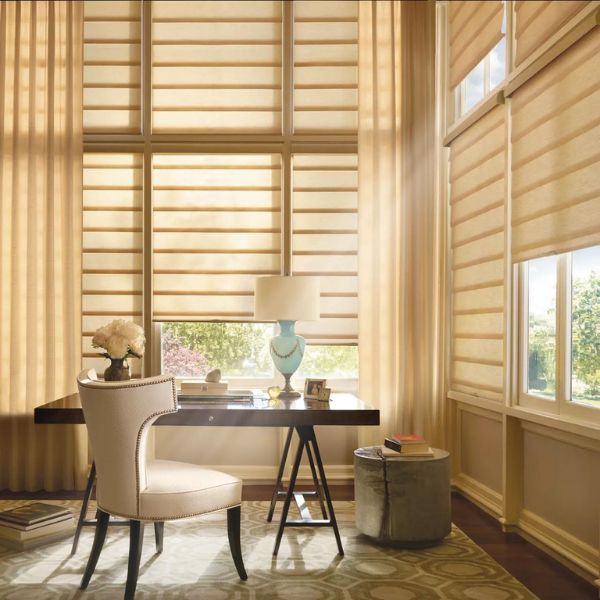 Vignette®


Imagine a Roman shade that has a uniform, contoured or flat-fabric folds, and no exposed rear cords. We've taken out all the issues from standard Roman and made it into a flawless modern shade. That is the Vignette®.


Unlike other Roman shades, Vignette® shades can open from the top, from the bottom, or somewhere in-between for the perfect balance of privacy and light.


Vignette® shades offer a stunning array of fabrics and opacity. From sheer and light-filtering options that allow natural light to softly illuminate a room, to room-darkening and fabrics that ensure optimal light blockage, there is a fabric choice for every need.


Vignette® shades also offer energy-saving benefits. The luxurious fabrics are designed to insulate windows, helping to regulate interior temperatures and reduce energy consumption. By effectively blocking heat gain during the summer and minimizing heat loss during the winter, Vignette® shades help create a more energy-efficient living environment.


Learn more about Vignette® shades here!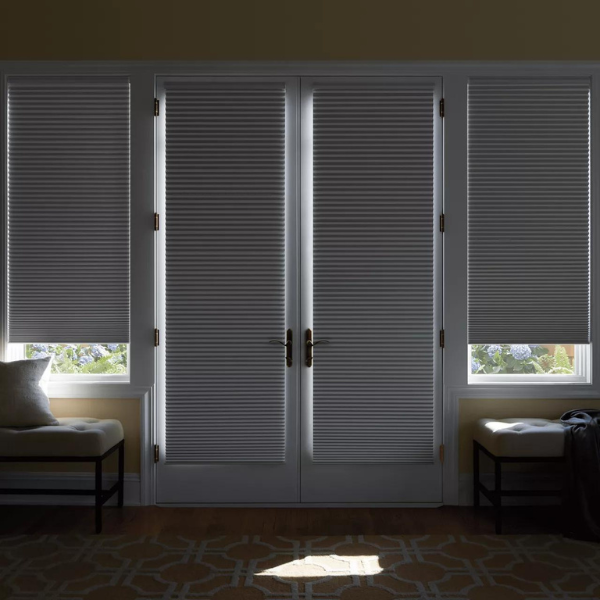 Duette®


Duette® Cellular Shades are ideal for preventing your home from getting too cold or too hot. They are energy efficient and made from beautiful fabric that will help pull your room together.


They also offer unbeaten light control and privacy with both top-down and bottom-up designs. Add to that, unbeaten room darkening abilities and Duette Shades can transform your rooms into peaceful havens.


Finally, Duette® Cellular Shades can be customized to fit specialty-shaped windows including arches, trapezoids, hexagons, bay and corner windows, French doors, skylights, and more.  And you can pair them with remote controls, push/pull-up mechanisms, and skylights for the ultimate control.  


For added energy savings, Duette Honeycomb Shades® offers both a single construction and a cell-within-a-cell design called Duette Architella®. Architella® shades feature more layers of fabric and insulating air pockets, allowing them to provide greater energy efficiency. 


Learn more about Duette® shades here!


Hunter Douglas® Shades from Blinds Plus and More


Hunter Douglas® is famous for its wide array of energy-efficient and stylish window treatments. Hunter Douglas® shades can help set apart your home and helps you make a statement.


If you are looking for the widest selection of Hunter Douglas® shades available, then Blinds Plus and More is here for you!


Blinds Plus and More has four show rooms located in Cincinnati, Mason, Centerville, and Florence.


For better window treatments for your home, stop by one of our showrooms today!


Want more window treatment tips? Follow Blinds Plus on Facebook, Instagram, and Pinterest.


If you are happy with the difference Blinds Plus made in your window treatment shopping and installation process, leave us a five-star review here!