You want stylish window treatments for your French doors or sliding doors. But how do you know which window treatments will provide the best coverage and give your room a boost in sophistication?


There are many different options you can choose from, but not every choice will be right for your home and your windows.


For example, certain window treatments are better suited for larger sliding doors as they traverse horizontally. Likewise, other window treatments fit perfectly with more narrow doors since they offer more vertical control.


Look past the tradition! Blinds Plus and More offer many unique styles and designs that can help add an extra burst of life to your home.


This post will go over some of the best window treatment options for French doors and sliding doors.


The Best Window Treatments for French Doors


French doors are a lightly constructed pair of doors with glass panels extending most of the doors' length. Because there is so much window space, window treatments are often used to control light penetration.


Here are some of the best window treatments for French doors.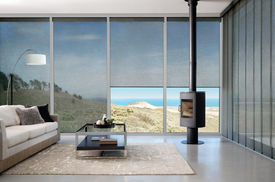 Cellular Shades


Cellular shades are one of the most prominent options for French doors because they are narrow and provide excellent light control.


Not only do they fit French doors perfectly, but they are also energy efficient. Hunter Douglas' Duette ® Honeycomb shades trap air in tiny pockets, meaning they have excellent air insulation. Because of this, hot and cold air struggle to get into your home, meaning your A/C will not have to work as hard, and your air will stay comfortable no matter how bright the sun is.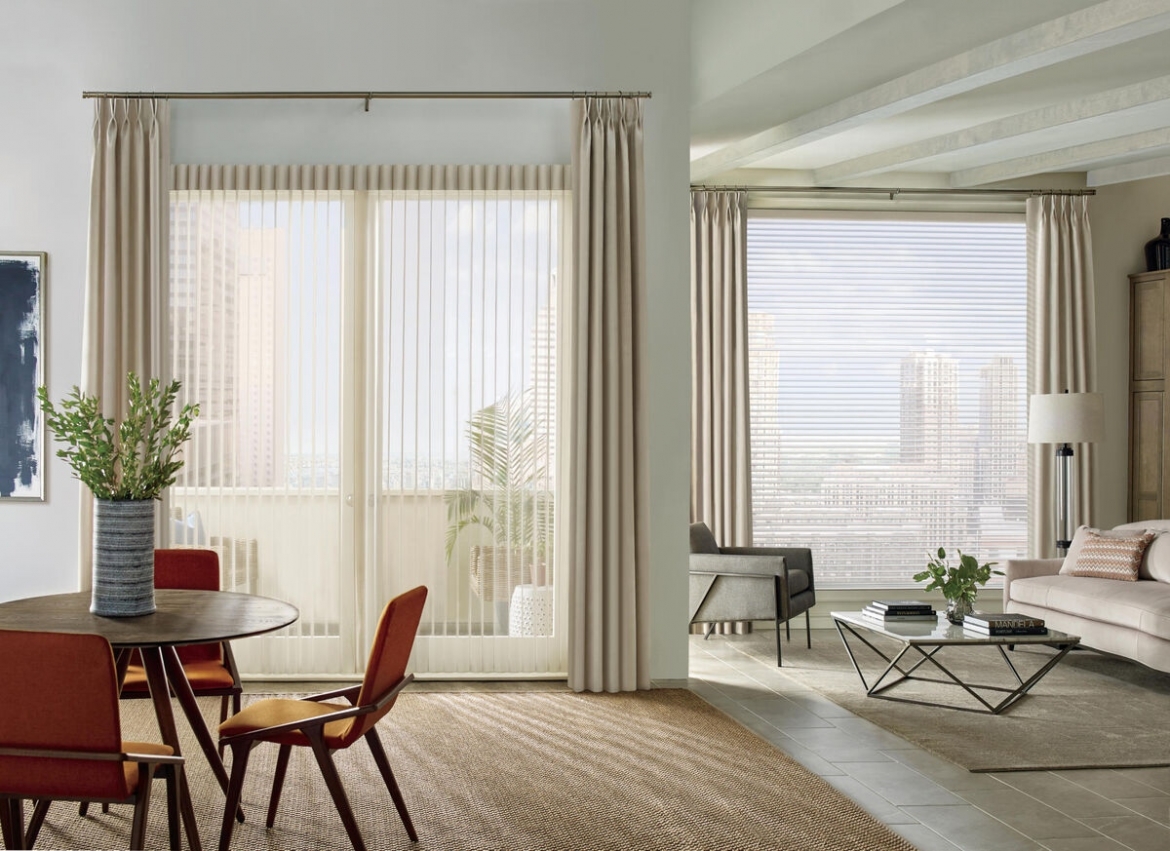 Woven Wood Shades for Sliding Glass Doors


Woven wood shadings are one of the most stylish window treatments when you want a light, elegant look.


Silhouette ® Window Shadings from Hunter Douglas are one of the most popular choices because they have a unique S-shaped vein that winds between two panels. This is an excellent way to diffuse light and block the view from the outside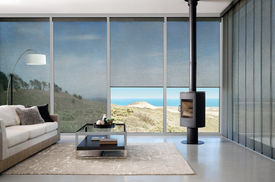 The Silhouette ® model is a tilt-only low-profile system and is 60 percent smaller than the standard tilt-only system. That means it is an ideal fit for French doors and will be perfect for your home.


The Best Window Treatments for Sliding Doors


Sliding glass doors are wonderful features in any home. They allow you to open your door to the outside as much or as little as you prefer, giving you maximum airflow and temperature control.


However, since so much light is let in, many homeowners need window treatments to help control brightness and temperature.


Here are some of the best window treatments for sliding glass doors.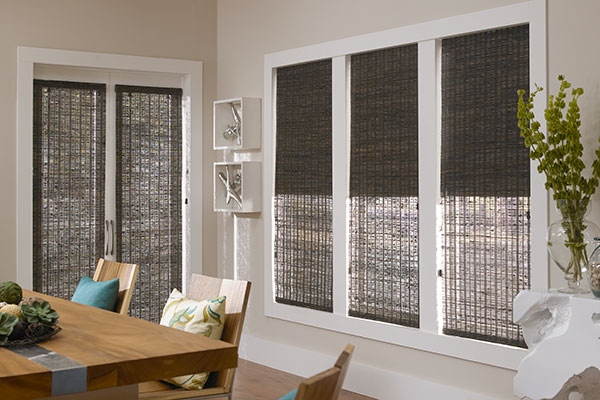 Woven Wooden Shades


Woven wooden shades are an excellent fit for sliding glass doors because, not only do they provide a naturalistic style, but they are also highly durable and stand up to the elements.


Crafted from natural woods such as bamboo, reeds, grasses, and more, woven wooden shades, are eco-friendly and give a unique look to your home.


Provenance ® Woven Wood Shades are engineered to prevent and minimize stretching, bowing, breaking, and fading.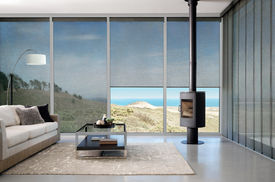 Vertical Blinds


One of the most versatile options, you can find vertical blinds in many different colors, styles, and textures.


The reason they are so popular for sliding doors is that they can move easily from side to side, so you can customize the amount of light your sliding door lets in.


Skyline® Gliding Window Panels from Hunter Douglas are one of the best options for this very reason. Crafted from a flat, vertical fabric, these window treatments slide side-to-side and are easily maneuvered.


Cadence® Soft Vertical Blinds from Hunter Douglas are another great option. These precious and unique window treatments have curved vanes that give the illusion of folded drapery. That means they absorb sound and ensure smooth operation.


Choose the Right Window Treatments for Your Glass Doors with Blinds Plus and More


Choosing the perfect window treatments for your French and glass doors or sliding doors is no easy feat.


What you might picture in your head as the perfect match, may in reality turn out to be a dud.


That's why you need to see your window treatments in person before you can make a decision.


That's where Blinds Plus and More comes in! We have an expansive showroom of window treatments of all shapes, sizes, brands, and colors. We offer Hunter Douglas, Alta, and more, stop by one of our four showrooms in Mason, Centerville, Cincinnati, or Florence to see what we can do to enhance your home.


If you are ready to take the next step in style and luxury, stop by Blinds Plus and More today!