Exterior blinds and shades are the new window treatment style that has been surging in popularity over the past two years.


According to Grand View Research, the exterior shading market in North America was valued at $3.3 billion in 2020, and it is projected to grow at a compound annual growth rate of 5.5% until 2028.


In short, the demand for exterior blinds and shades is rising in the United States as homeowners look for new ways to improve the energy efficiency, comfort, and visual aesthetic of their homes.


Due to the popularity of exterior shades around the world, there are several different varieties to choose from. Each type of exterior blind or shade comes with its own advantages.


What are the advantages of exterior blinds and shades? Find out here!


This post will look at six different varieties of exterior window treatments and examine what each kind can offer you and your home.


Six Best Exterior Blinds and Shades for Your Home


You may be considering exterior window treatments for your home. They are a great investment as exterior shades improve energy efficiency, offer superb UV protection, provide excellent light control, and are designed to stand up to the harshest of weather conditions.


Let's take a closer look at six of the top exterior window treatments to determine which may be best for your home.


Awnings


Perhaps the most popular variant of exterior window treatments, awnings have been seen across America for many decades. These often-retractable covers provide shade and protection from UV rays and harsh weather. They can be manually manipulated, or they can be motorized to change their position at the click of a button.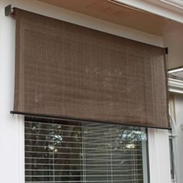 Exterior Roller Shades


Outdoor shades are often made of vinyl, woven fabric, or mesh and come in a range of colors and designs. Outdoor roller shades are easily adjusted as the sun moves across the sky, and they offer excellent UV protection and energy efficiency. Their easy operation and added privacy mean they are an ideal option for any homeowner.


Exterior Shutters


Another exterior window treatment that has been popular in America for a long time, shutters are great for protecting your windows from harsh weather and bright sunlight. They are made from solid panels, usually of wood or vinyl, and are excellent for insulation and security. If you want to keep your windows safe from damage and improve energy efficiency, exterior shutters are the exterior window treatments for you.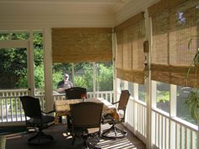 Outdoor Bamboo Shades


Natural bamboo is a great material for outdoor window treatments because it is weather resistant and visually pleasing. Bamboo creates a warm and tropical ambiance all while blocking out UV rays and boosting energy efficiency in your home. In addition, outdoor bamboo shades are lightweight and durable, meaning they are ideal for outdoor use.


Exterior Zip Shades


Made from a tightly woven fabric that zips up and down to allow you to customize how much coverage you want. They are great for large windows or outdoor spaces. Exterior zip shades allow you to adjust how much light control and UV protection you want as the day goes on.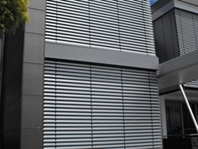 Exterior Venetian Blinds


If you want a perfect combination of visual aesthetic and light control, then outdoor Venetian blinds are the ideal option for you. Made from durable materials like vinyl or PVC, exterior Venetian blinds are highly durable, and provide excellent insulation against heat loss or gain. If you are looking for a good balance between visual appeal and function, exterior Venetian blinds are a great choice for you.

Energy efficiency is a priority for window treatments. Here is how you find the most energy-efficient window treatments that match your style!


Exterior Blinds and Shades for You at Blinds Plus and More


Exterior blinds and shades are steadily growing in popularity in the United States.


Some varieties are already popular (like shutters and awnings), but more varieties of outdoor window treatments are coming.


If you want to stay ahead of the curve and find the exterior shades of your dreams, then Blinds Plus and More is your one-stop destination.


Blinds Plus and More has four locations in Cincinnati, Mason, Centerville, and Florence. Each showroom is stocked with hundreds of options to ensure that you find the perfect exterior window treatments for your home.


Discover the Blinds Plus difference when you stop by one of our showrooms today!


Happy with your window treatments from Blinds Plus and More? Leave us a quick five-star review here!
Don't miss out on the best tips and tricks for your window treatment, follow Blinds Plus and More on Facebook, and Pinterest here!