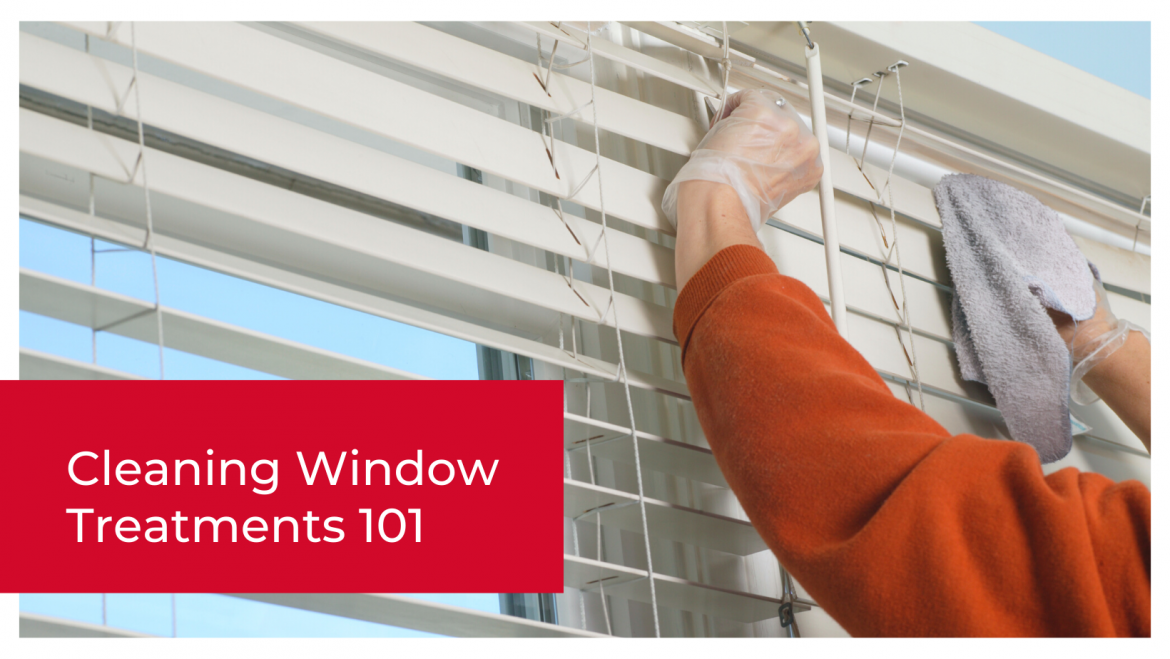 When properly applied, a smart window treatment can lighten up even the dullest rooms.


Curtains, blinds, shutters, and shades, all offer protection from sunlight and enhance your room with a stylish look.


However, it can be all too easy to let your window treatments collect dust, grime, and other unhygienic substances.


To ensure your window treatments always look their best, you must clean them regularly. Dingy window treatments will do nothing except make your room look drab and unattended.


In this article, we will go over how to clean your different types of window treatments the right way so you can bring back the vibrancy that your window treatments provided when they were brand new.


How to Clean Each Type of Window Treatment
A variety of window treatments can go a long way towards improving the style of your home. However, a wider variety also means you need to clean your window treatments more often.


Let's look at each type of window treatment and how to properly clean them.


Fabric curtains.



Curtains come in many different types of materials from muslin to velvet. Likewise, each material has its own particular cleaning needs that you must follow.

Before you do anything, check for dust. If your curtains are too dusty, you will struggle to properly clean them.

You can dust your curtains using a vacuum brush on its lowest setting.

Once excess dust is removed, check to see if your curtain has pre-written cleaning instructions. If your curtains are safe for machine wash, you can wash them as you would any piece of clothing.

If your curtains are custom made or cut from a delicate material like velvet or lace, a special clean is required. For intermediate cleaning, brush your delicate curtains with a soft brush and spot clean debris with a moist cloth.

However, for a more advanced clean, hire a professional service. Only a professional can make your curtains look brand new again.


Blinds


Simple plastic blinds are relatively easy to clean. Simply dust once per month using a damp cloth or a microfiber cloth. Once your plastic blinds become sun-worn or fragile, simply replace them.

However, for blinds that are designed to last longer (such as wooden or metal blinds), they will need a deeper cleaning.

Dust your high-quality blinds regularly and wash them with a moist cloth soaked in soap and water. Target problem areas with a sponge and dab away any dirt or spills.

Make sure you are cleaning each slat and wipe the lift cord clean.
Shutters


Shutters are generally on the outside of your house and therefore pick up more substantial grime.

Wiping your shutters clean with a sponge, soap, and water is usually the best method of cleaning.

For sturdy shutters, you can power-wash away more invasive messes. Be aware of any paint and ensure that it is designed to handle a power wash. If not, you must clean your shutters by hand.

Always be sure to repaint your shutters if you notice chips or scratches.


Take Care of Your Window Treatments and they Will Take Care of You
The last thing you want is your once-beautiful window treatments to devolve into an eyesore due to neglect.


Make sure you set a regular cleaning schedule for all your window treatments and follow it.


Steam cleaning is a viable option for stains that are resistant to cleaning.


If your mess goes deeper than dust and dirt, call the professionals at Blinds Plus and More. We can clean and repair any window treatment and have them look brand new in no time.