You want stylish window treatments for your French doors or sliding doors. But how do you know which window treatments will provide the best coverage and give your room a boost in sophistication?
There are many different options you can choose from, including vertical blinds, horizontal blinds, roller shades, and cellular shades, but not every choice will be right for your home and your glass doors.
For example, certain window treatments are better suited for larger sliding doors as they traverse horizontally. Likewise, other window treatments fit perfectly with more narrow doors since they offer more vertical control.
Look past the tradition! Blinds Plus and More offers many unique styles and designs that can help add an extra burst of life to your home.
This post will go over some of the best window treatment options for French doors, glass doors, and sliding doors.



The Best Window Treatments for French Doors
French doors are a lightly constructed pair of doors with glass panels extending most of the doors' length. Because there is so much window space, window treatments are often used to control light penetration. There are many different window treatments that you might consider that are perfect for French doors.
Here are some of the best window treatments for French glass doors.
Cellular Shades for French Doors
Cellular shades are an excellent window treatment option for French doors due to their versatility and functionality. These shades feature a unique honeycomb structure that provides insulation and regulates temperature, making them perfect for any season.
The honeycomb structure of cellular shades creates small pockets of air that act as a barrier between the room and the exterior. This insulation feature helps to trap warm air during the cooler months and keeps the room cool during the summer. As a result, cellular shades can significantly reduce energy costs by minimizing the need for heating and cooling.
When it comes to style, cellular shades offer a wide range of opacity levels and color options to match any decor style and personal preference. Whether you prefer a sheer shade to let in natural light or a room-darkening shade for complete privacy and light control, cellular shades have got you covered.
However, it is important to note that cellular shades may not be ideal for households with pets or a more rugged lifestyle, as the delicate honeycomb structure can be prone to damage. For pet owners or high-traffic areas, it may be worth considering alternative window treatment options.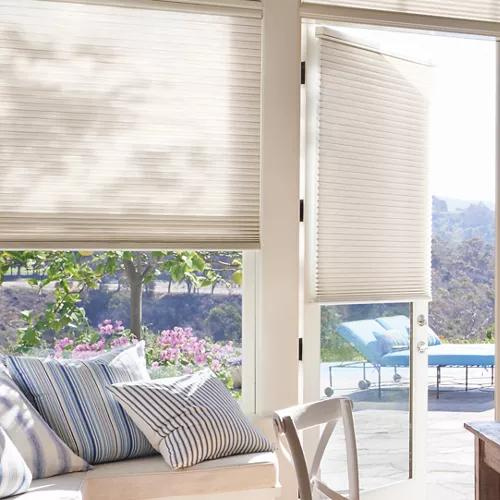 Hunter Douglas®' Duette® Honeycomb shades trap air in tiny pockets, meaning they have excellent air insulation. Because of this, hot and cold air struggle to get into your home, meaning your A/C will not have to work as hard, and your air will stay comfortable no matter how bright the sun is.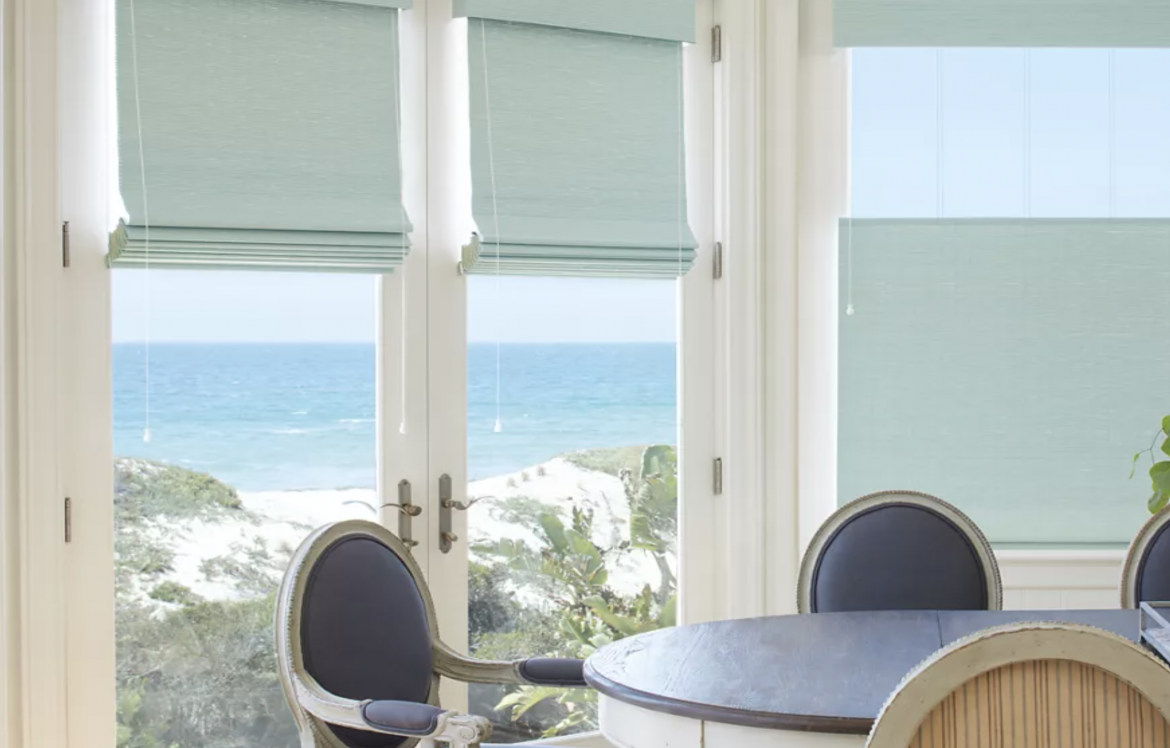 Woven Wood Shades for French Doors
When it comes to window treatment options for French doors, woven wood shades are an excellent choice. These shades offer a unique and natural look that complements the overall aesthetics of the door and the surrounding decor.
One of the key advantages of woven wood shades for French doors is their ability to provide both light and privacy control. The unique construction of these shades allows for the diffusion of natural light while also offering sufficient privacy when needed. This light control feature is ideal for French doors, as it allows homeowners to enjoy natural light during the day while maintaining privacy during the evening hours.
In addition to their light and privacy control capabilities, woven wood shades are also an eco-friendly option. Made from natural materials such as bamboo, reeds, and grasses, these shades provide an environmentally conscious window treatment option. The use of sustainable materials also contributes to their stylish and organic appeal.
Woven wood shades for French doors also come in a wide range of styles, colors, and patterns, allowing homeowners to choose the perfect option that complements their decor style. Handcrafted from wood, reeds, grasses, and bamboo, Provenance® Woven Wood Shades from Hunter Douglas ® bring a touch of the outdoors, in.
From light filtering to room-darkening options, these shades offer versatility for any living space. Whether you prefer a rustic look or a contemporary vibe, there's a woven wood shade that suits your needs.
The Best Window Treatments for Sliding Doors
Sliding glass doors are wonderful features in any home. They allow you to open your door to the outside as much or as little as you prefer, giving you maximum airflow and temperature control for better energy efficiency.
However, since so much light is let in, many homeowners need window treatments to help control brightness and temperature. Sheer curtains, vertical blinds, horizontal blinds, and other window coverings are all great ways of providing light control to decide how much natural light is allowed to enter the home.
Here are some of the best window treatments for sliding glass doors.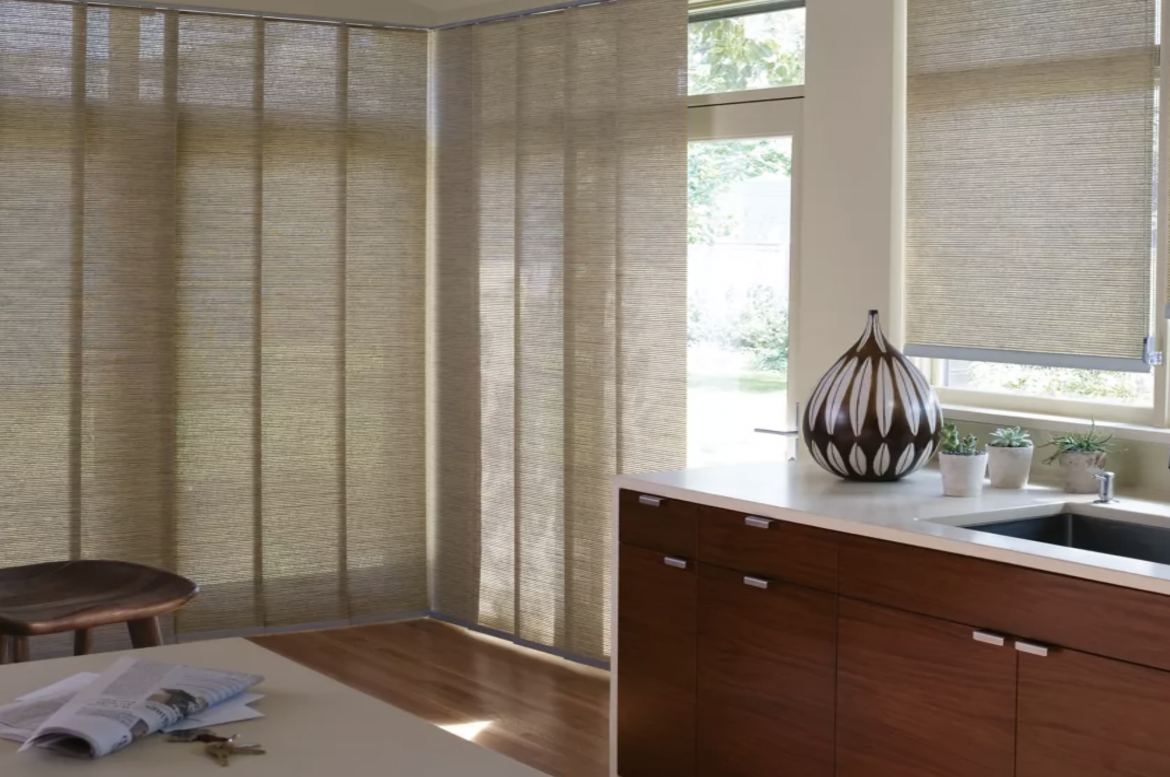 Woven Wooden Shades for Sliding Doors
One of the key advantages of woven wood shades is their ability to let in plenty of natural light while still providing privacy. The semi-opaque nature of the woven materials allows just the right amount of sunlight to filter through, creating a soft and inviting atmosphere. This makes them an ideal choice for sliding glass doors, where natural light is often desired.
Moreover, woven wood shades are an eco-friendly option for window coverings. The materials used are sustainable and renewable, making them a conscious choice for those who prioritize environmental sustainability.
In addition to their natural look and eco-friendliness, woven wood shades come in a wide variety of colors, styles, and designs. This allows homeowners to find the perfect option to complement their decor style. Whether it's a modern, minimalist look or a cozy, rustic feel, there is a woven wood shade to match every taste.
A popular woven wood shade for sliding doors is Alustra®. Alustra® Woven Textures® from Hunter Douglas® brings organic luxury to any space. This semi-sheer fabric is an excellent way to diffuse light and block the view from the outside.
The Alustra® Woven Textures® come with expansive solutions, making it an ideal fit for sliding doors and perfect for your home.
Learn more about how to choose the right window coverings for energy efficiency here!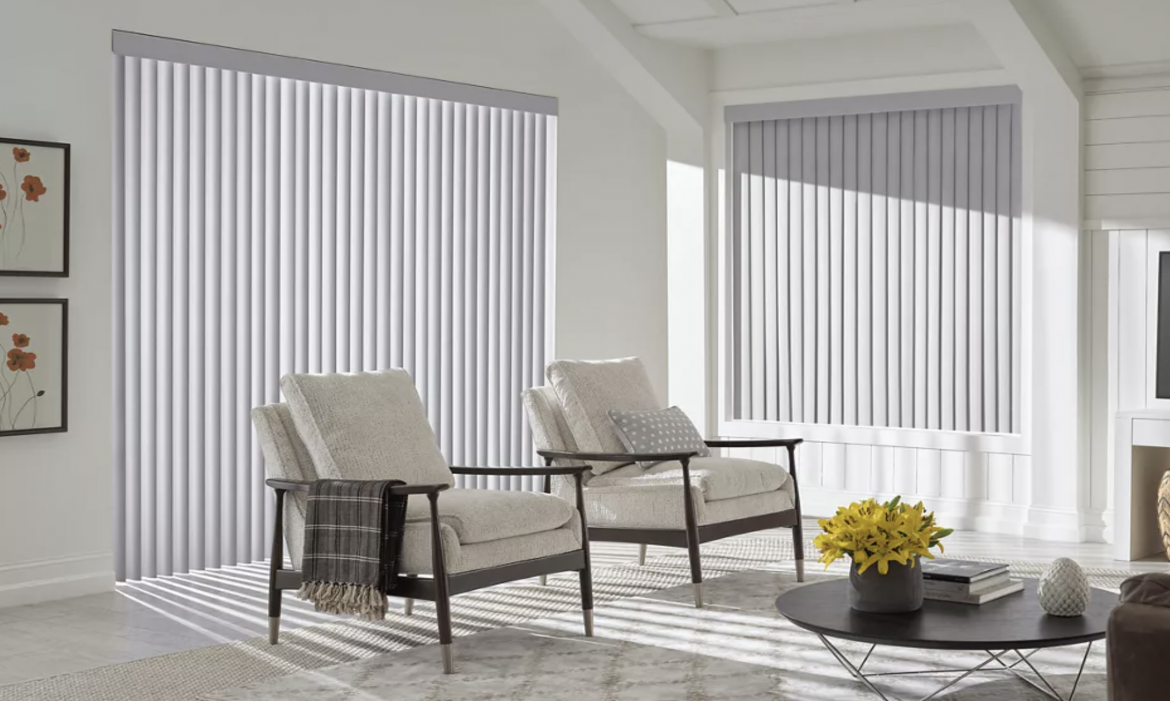 Vertical Blinds for Sliding Glass Doors
When it comes to window treatment options for sliding doors, vertical blinds are a popular choice due to their durability, insulation benefits, ease of maintenance, and adjustability options. With a wide variety of colors and fabric options available, they are the perfect choice to enhance any living space and offer an extra layer of privacy.
Cadence® Soft Vertical Blinds from Hunter Douglas is a great option for sliding doors. These precious and unique window treatments have curved vanes that give the illusion of folded drapery. That means they absorb sound and ensure smooth operation.
One of the biggest benefits of vertical blinds is their durability. Made from high-quality materials, they can withstand daily wear and tear without losing their functionality or aesthetic appeal. Furthermore, vertical blinds offer insulation benefits, helping to regulate the temperature of your living space and saving energy costs.
The adjustability of vertical blinds is another advantage. You can easily control the amount of natural light entering your space by adjusting the vertical panels. They can be adjusted to stack to one side or split in the middle, giving you the flexibility to customize your window size and light control.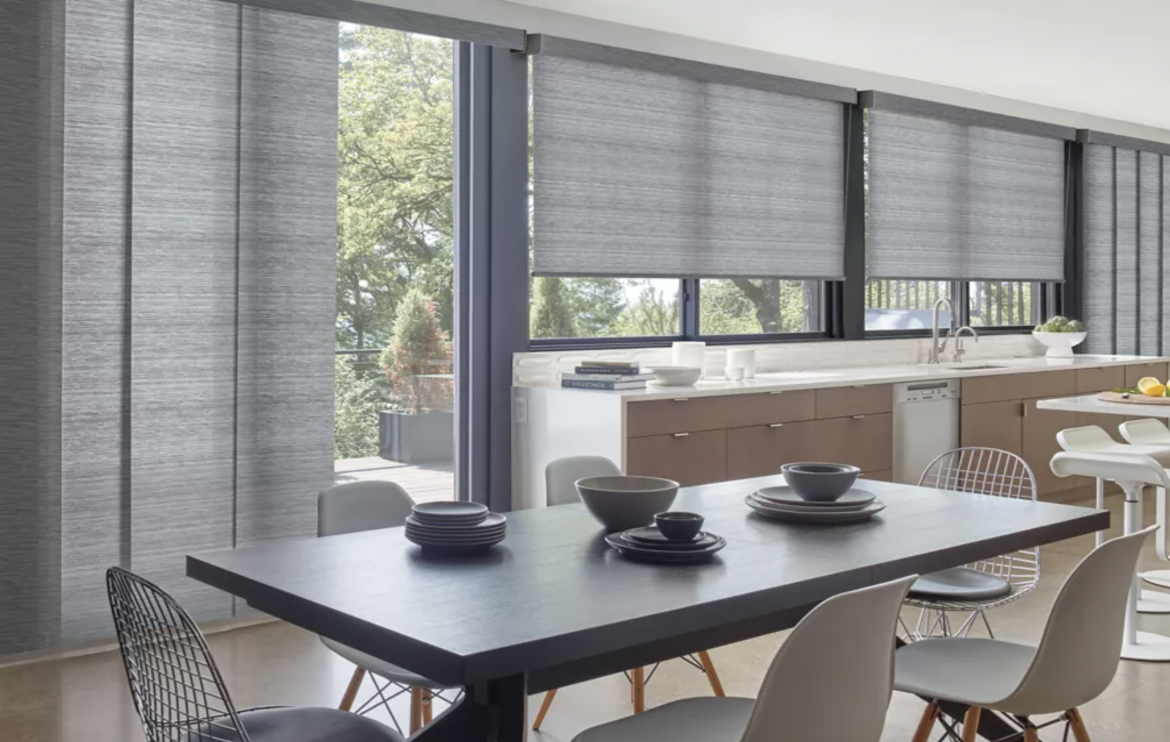 Skyline® Gliding Window Panels from Hunter Douglas® is another great option for this very reason. Crafted from a flat, vertical fabric, these window treatments slide side-to-side and are easily maneuvered.
Choose the Right Window Treatments for Your Glass Doors with Blinds Plus and More
Choosing the perfect window treatments for your French doors or sliding doors is no easy feat.
Let the professionals bring your vision to life. Come see window treatments in person at Blinds Plus and More before you make a decision.
We have an expansive showroom of window treatments of all shapes, sizes, brands, and colors. We offer Hunter Douglas®, Alta®, and more, stop by one of our five showrooms in Mason, Centerville, Cincinnati, Eastgate, or Florence to see what we can do to enhance your home.
If you are ready to take the next step in style and luxury, stop by Blinds Plus and More today!
Follow Blinds Plus and More on Facebook, Pinterest, and Instagram for more window treatment tips. 
If you are happy with the Blinds Plus and More difference, leave us a five-star review here!