Your blinds are a big part of your home's style and décor.


We all love the look of elegant wood blinds. And today, you have more options for wood blinds than ever before.


Wood blinds come in many different varieties, colors, and styles. And one of the best options, when you want the look and style of wood blinds without too much maintenance, is faux wood blinds.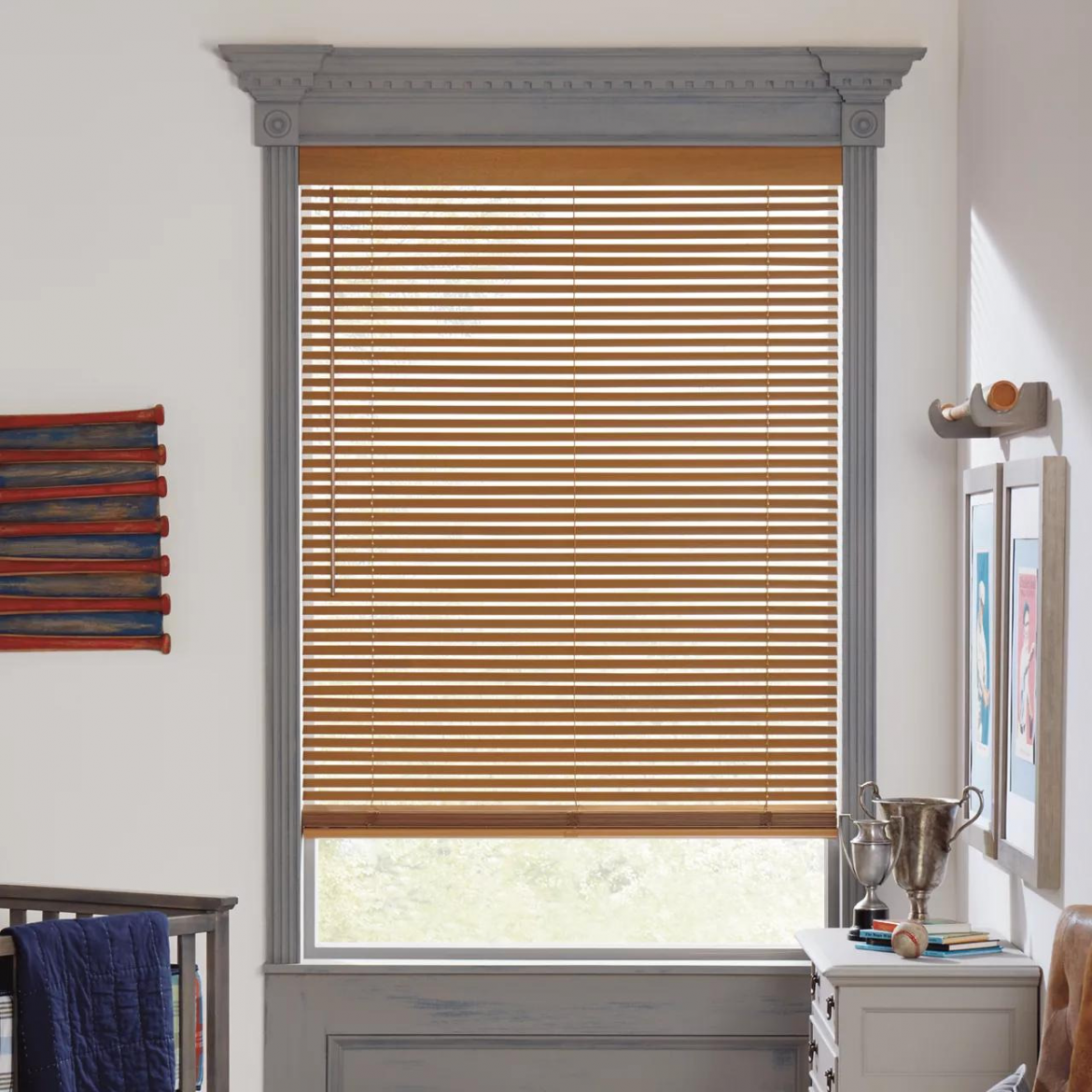 That doesn't mean, however, that natural wood blinds are on their way out. There are still a few reasons that you may choose natural wood blinds over faux wood blinds.
Looking to try something new? Here are the best window treatments of 2023!


In this post, we will compare and contrast natural wood blinds and faux wood blinds to help you determine which are best for your Cincinnati or Northern Kentucky home or business.
Which is Better, Natural or Faux Wood Blinds?


When it comes to natural or faux wooden blinds, one choice is not better than the other.


It all comes down to your lifestyle, personal preferences, and the room your blinds will go in.


Let's break down each option by pros and cons so you can determine which is the best choice for you.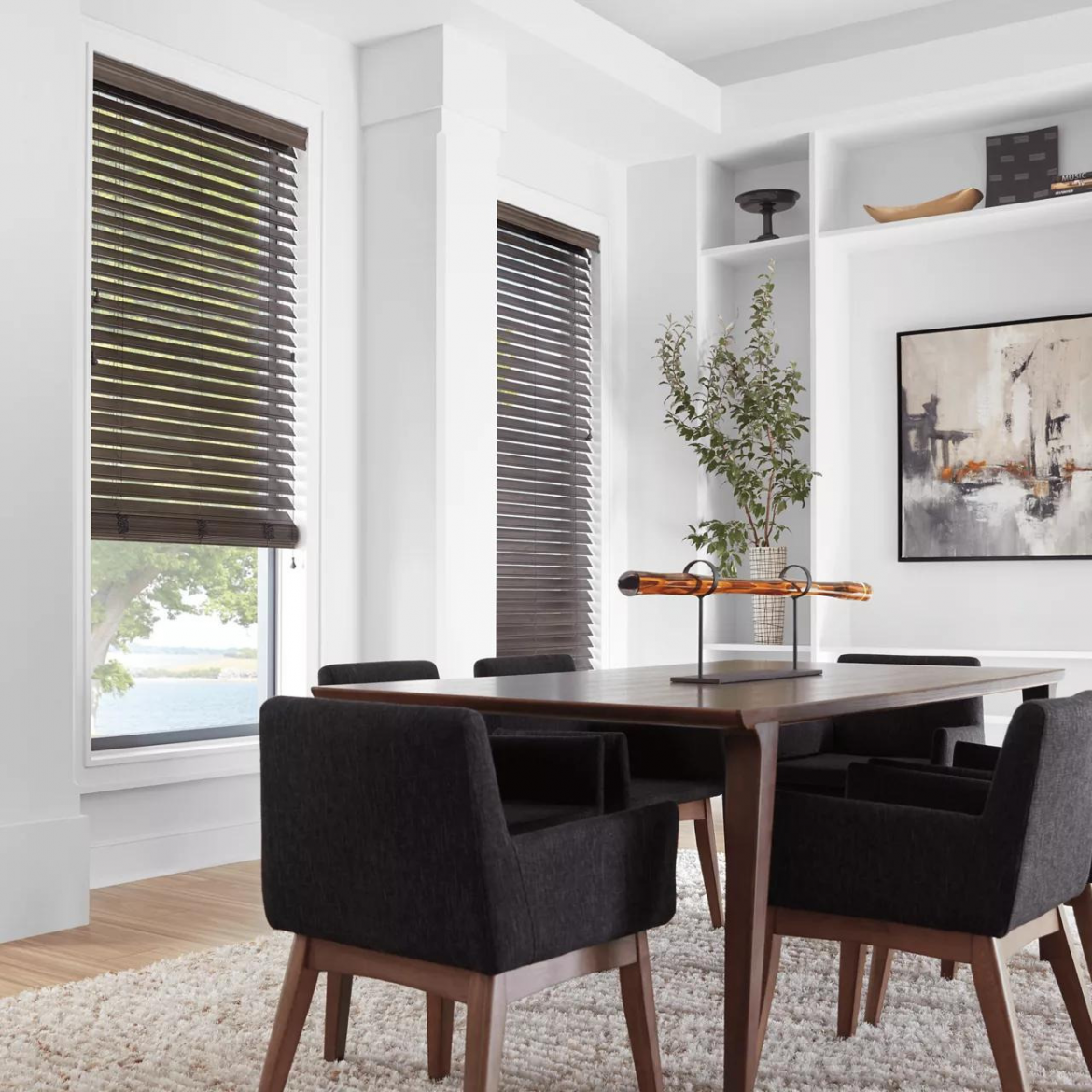 Natural Wood Blinds


One of the most classic and stylish options for blinds, natural wood blinds are environmentally friendly and create excellent natural insulation.


Let's look at the pros of choosing real wood blinds.


Real wood is endlessly versatile and can fit in with any style or décor


Natural wood is a great material for natural insulation, meaning they help improve your energy bill


Wood blinds are durable and it requires a great deal of pressure to break these slats


The shape is customizable so they are perfect for blocking out the glaring sun


Wood blinds can be used in almost any situation so in terms of style and use, they are great choices.


Let's look at some reasons you might choose faux wood blinds over natural wood.


Real wood is not ideal for bathrooms or kitchens as it can be warped by water


For deep cleans, water can cause damage to real wood blinds, you should use furniture polish or lemon tree oil instead


What window treatments are best for kitchens? Learn more here!


As you can see, there are not many drawbacks to selecting real wood blinds. With a little care and forethought, they are the perfect choice for almost any room in the house.


Faux Wood Blinds


Like natural wood blinds, faux wood blinds are a versatile and durable choice that can fit in with nearly any style.


What makes faux wood blinds so popular? Learn more here!


Let's first look at some of the pros of faux wood blinds.


Faux wood blinds look identical to wood, meaning you can mimic many styles for a fraction of the cost of natural wood


They are resistant to moisture and warping meaning you can use faux wood blinds in your kitchen, bathroom, and other wet rooms


Faux wood blinds are remarkably easy to clean and some owners simply spray them down with a hose


Faux wood blinds will not fade from the sun


As you can see, the benefits of faux wood blinds are numerous. They are ideal for mimicking natural wood when you fear warping or want a lesser price tag.


Now, let's look at a few reasons you might choose natural wood blinds over faux wood.


Faux wood is made out of vinyl or plastic, meaning it is not biodegradable like natural wood


Real wood blinds tend to be higher quality and have a soft, almost warm feel to them


Faux wood tends to collect dust slightly more easily than real wood, so you might have to dust a little more often
Get Natural or Faux Wood Blinds from Blinds Plus and More


Both natural wood and faux wood blinds are great choices for your home.


They will give you a timeless sense of style and warmth that cannot be matched.


When it comes to choosing between natural and faux wood blinds, it comes down to price, which room you will use them in, and personal preference.


Regardless of which option is best for you, Blinds Plus and More has you covered!


Stop by one of our four showrooms in Mason, Centerville, Norwood, and Florence to browse our selection of blinds, shades, and all kinds of window treatments that will be perfect for your home.


Ready for the window treatment upgrade you deserve? Stop by Blinds Plus and More today!


Satisfied with the difference Blinds Plus and More made for your window treatments? Leave us a quick review on Google here!


Don't miss out on the best! Follow Blinds Plus and More on Facebook, Instagram, and Pinterest for more free window treatment tips and tricks!